You leave the refuge and after two km turn right and start the climb in one of the most beautiful sceneries that the Alps can offer. We are in the heart of the PARCO DEL GRANPARIDISO. The climb winds through an enchanting and uncontaminated setting where respect for the environment is felt in the air. After a first series of hairpin bends, we arrive at 2275 meters above sea level of Lago Serrù, site of a stage finish of the Tour of Italy. The road continues up to the Agnes lake at 2300 meters above sea level. Then the last kilometers that lead, with postcard images, up to 2,612 meters above sea level of the Colle del Nivolet. The road has no outlets and therefore you have to go back, retracing the path backwards. Even if the road is the same, the view will always be enchanting. It goes back from Ceresole and down the valley to Cuorgnè. The route becomes flat and passing through Ciriè take the Val Susa until you reach Meana di Susa.
615
148
9244
Ceresole Reale
Bruzolo
https://www.openrunner.com/r/13808928
1933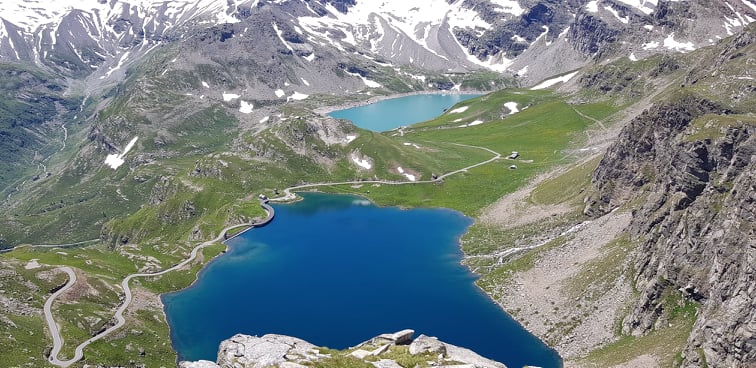 Link openrunner
PARCO DEL GRAN PARADISO, the first Italian park, established in 1922 as a summer destination for excursions in uncontaminated and enchanting environments. Ceresole Reale, tourist center in the heart of the park .The arrival in Val Susa, a valley that connects Piedmont with France through its passes, is greeted at the beginning of the valley with the SACRA DI SAN MICHELE, an abbey clearly visible from the valley and placed on top of the mountain.
6