It is the last effort, but it is also the queen stage of ALPI 4000 with the ascent of RE STELVIO
From Merano staying on the Val Venosta cycle path up to Prato allo Stelvio (918 m a.s.l.). From here you go up for 25 km, with ever increasing slopes.
The first 8 km of ascent are the most rideable with an average gradient of around 5%. Then, after a slight slope, the 48 hairpin bends begin, with slightly more challenging average gradients (8%). Overcoming Trafoi, the slopes become more important, but the view of Mount Ortles helps not to feel fatigue. The final part of the climb is very regular, but the hairpin bends follow one another and the effort required is maximum.
The hairpin bends are all numbered backwards, to show how much is missing from the top.
The average slope of the climb is 7.4%, the maximum slope is 11% for an overall difference in height that exceeds 1800 m. Arrived at 2758 meters of Passo dello Stevio you have the CORONATION OF YOUR COMPANY: ALPI 4000 2022
From the descent pass, for 4 km to the Passo Umbrail junction, then after three hairpin bends a long straight road towards the Braulio waterfalls. From here, after a series of small well-lit tunnels, I arrive in Bormio
1453
97
22615
Merano
Bormio 2
​https://www.openrunner.com/r/13990039
2569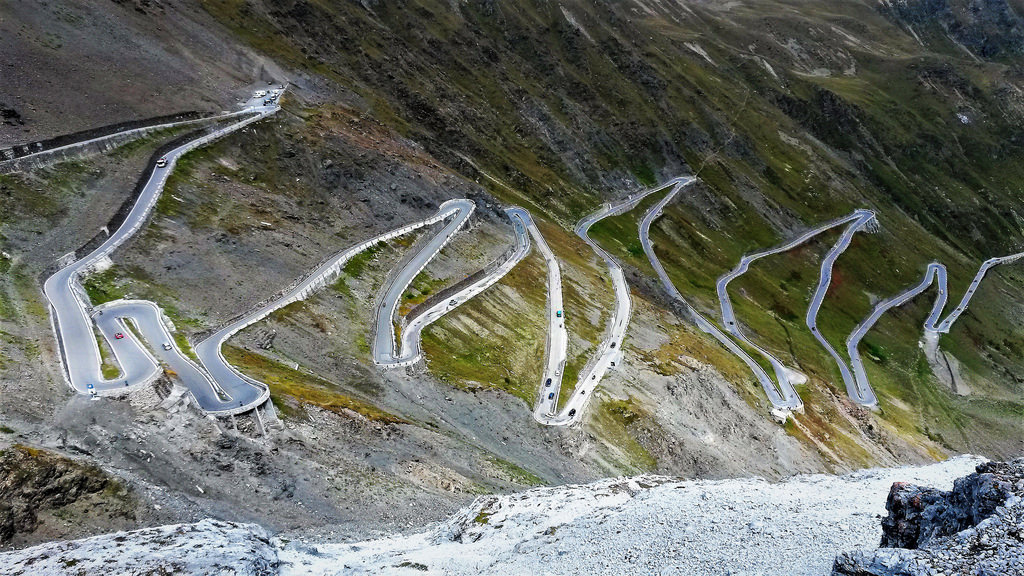 Link openrunner
From the enchanted lake of Brugg on the cycle path and largely skirting the Adige, I arrive in Prato allo Stelvio located in the Stelvio National Park. The climb takes us to
Trafoi, an idyllic village located in the Ortles at 1,570 meters above sea level and home to just 90 people. This village is a popular starting point for high mountain excursions or cycling routes. We are in the Ortles group surrounded by large glaciers of the natural park. From here to the Stelvio Pass which with an altitude of 2,758 m a.s.l. and connects - (only during the summer season) Lombardy, Switzerland and South Tyrol, through the highest carriage road in Europe. The opening of the Stelvio Pass is generally for the second half of May, while the closing is for the first days of November.
The road to the Stelvio pass is immersed in a natural park, in an area steeped in history.
The history of the First World War, with the trenches and the many military remains, which testify to a sad and hard period of history and - secondly - that of the bicycle, with the epic exploits during the stages of the Giro d'Italia.
On the descent you enter the Braulio valley, passing alongside the waterfalls.
Before arriving in Bormio you will meet the spas, one of the main activities of the place, Bagni Vecchi and Bagni Nuovi. A few kilometers further you arrive in BORMIO, a splendid town in Valtellina, a summer and winter tourist destination
14